There certainly a lot of protein shake meal replacement shakes on the market. Every thing from Slim Fast to a number of other protein shake meal replacement products.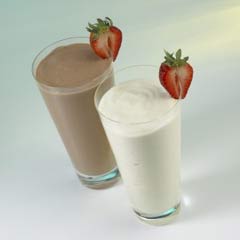 Here is why we believe the IsaGenix Isalean Protein Shakes are the very best of all.
First there is no compromise of ingredients in the product. Only the very best protein and other raw ingredients are used.
Second they are a complete, full-meal replacement. Unlike many other shakes out there that require milk in order to create a true meal replacement option, you don't need milk for IsaLean Shakes. And, the shakes do their job. The calories are controlled and your body gets what it needs without having to worry about your muscles suffering due to lack of nutrition. providing optimal support. Plus these are a full meal not just a snack shake. They provide optimal support for Nutritional Cleansing and
Replenishing, weight loss and weight maintenance, as well as peak
performance. While low in saturated fat, sodium and cholesterol, IsaLean Shake is high in protein, healthy poly- and mono-unsaturated fats, dietary fiber, vitamins and minerals (including calcium, vitamin C, vitamin B12, and vitamin D). Plus, you get active digestive enzymes that help break down carbohydrates, proteins and fats and help maximize absorption of key nutrients. Many products touted as "meal-replacements" are  designed to control calories, and don't deliver adequate nutrition or the most efficacious amount of protein to stave off muscle loss that often accompanies weight loss.
IsaLean Shakes only need to be blended with water for a satisfying meal replacement while many other shakes on the market tout their nutrition without identifying that they must be mixed with milk in order to be a proper meal replacement, thus increasing the sugar, sodium, cholesterol, and possibly fat.
Third IsaGenix Isalean Protein Shakes contain the right amount of protein. In order to trigger a protein synthesis response, your body needs at least 20 grams of protein. Many shakes offer less than half of that! IsaLean Shakes include 23 grams of protein. The correct amount of protein to trigger a protein synthesis response is at least 20 grams and is dependent upon the amounts of branched-chain amino acids that are highest in whey protein-not soy protein isolate, which is the first (and primary) ingredient listed in other shakes on the market. IsaLean Shake is truly the meal replacement of choice for losing weight while maintaining and building muscle.
Plus, if you're looking for even more, you can add a scoop or two of our pure, undenatured whey protein IsaPro® for a boost.
Clinically shown to support healthy weight loss and weight management:
In a major university study where two IsaLean Shakes replaced two meals each day for 7 days, participants experienced a greater percentage of weight loss with an average of six pounds when compared to results obtained from other protein shakes on the market.
Fourth is the affordable per-meal cost. At just $3.64 per meal, or $2.78 for the Preferred Customer and Associate price, you're replacing a meal for less than what you could get at the fast food joint nearby. And, since IsaLean Shakes only require water (which is FREE) unlike some shakes that need milk, factoring the cost and the savings to your grocery bill are a cinch!
IsaGenix Isalean Protein Shakes- Click Here
for More Information.
IsaGenix Weight Loss Product Reviews and Success Stories – Click Here!