Now nearly 3 times more Potent!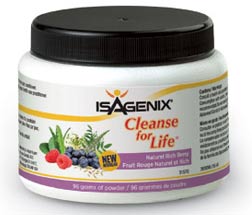 Isagenix Cleanse for Life Powder has been a great product. This excellent product has helped a lot of people lose weight as well as help cleanse the body. As good as the original Cleanse for Life Powder was the new improved Cleanse for Life Natural Rich Berry Powder greatly surpasses it.
With a new incredible flavor, 2- to 3- times the potency for each rare ingredient, and two new ingredients to enhance and improve your cleansing experience, your cleansing just got even easier.
Just what is IsaGenix Cleanse for Life?
Cleanse for Life helps give your body the nutrition it needs to cleanse itself naturally, and unlike other "cleanses," laxatives or diuretics that can deplete your body, Cleanse for Life nourishes and feeds your entire body with vitamins, minerals, antioxidants and botanicals. Now it is greatly improved with the new Natural Rich Berry flavor.
Natural Rich Berry Cleanse for Life benefits from IsaGenix's  ongoing research – this is next evolution of this incredible product.
Natural Rich Berry Cleanse for Life is the Result of Improved Technology
Through improved manufacturing and extraction techniques, the potency of each rare, no-compromise botanical ingredient has been improved. In some cases, the ingredients are 2 to 3 times more potent than the original version because of this improved extraction process that pulls all of the phytochemical properties from the botanicals at the cellular level.
New Ingredients in IsaGenix's Natural Rich Berry Cleanse for Life
The new Natural Rich Berry Cleanse for Life features a higher concentration of bioactives for increased potency for cleansing at the cellular level and greater protection against oxidative stress. Plus, new ingredients burdock and turmeric support liver health and offer a protective effect against toxins.
Turmeric (Curcuma longa): Traditionally used as a digestive aid, turmeric has potent antioxidant activity, supports detoxification, and helps protect against oxidative stress.
Burdock root (Arctium lappa): Increased amounts of burdock to help support liver health and the removal of accumulated waste products via the kidneys, skin and mucus membranes.
New Improved Taste Natural Rich Berry Cleanse for Life
Thanks to the new extract process and our already naturally-sweet ingredients (such as bilberry, blueberry and raspberry), the new Natural Rich Berry flavor of Cleanse for Life powder will make every Cleanse Day even more enjoyable.
New Isagenix Cleanse for Life Rich Berry Powder
IsaGenix Cleanse for Life Liquid