Give the gift of healthy, happy skin this holiday season with the Rejuvity® Essentials Pak.
Don't let the winter winds give you the skincare blues! This pak includes five of our core Rejuvity products so healthy skin is ready whenever—and wherever—you are.
Rejuvity combines nature and science for the ultimate experience in hydration, illumination, and rejuvenation. The Purifying Cleanser, Hydrating Toner, Essential Youth Serum™, Age-Defying Eye Cream, and Moisturizing Day Cream work synergistically to hydrate, illuminate, and rejuvenate your skin.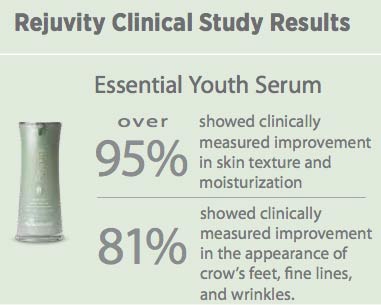 Rejuvity provides nourishment with natural botanicals such as alfalfa, watermelon, apple, oat, ginger, citrus, and jojoba. Plus, a four-week clinical study was conducted to gain objective results by using highly sophisticated, gold-standard instrumentation to measure elasticity, firmness, and skin moisture. -
The results were impressive, to say the least. Over 95 percent of subjects using the Essential Youth Serum showed clinically measured improvements in skin texture and moisture. Additionally, over 81 percent of those using Essential Youth showed improvements in the appearance of crow's feet, fine lines, and wrinkles. And that was only in four weeks!
"The new Rejuvity Skincare System feels wonderful on my skin. My skin has a more radiant glow after using this system of products. My skin feels softer, smoother and more even toned. This is only after a couple days of usage. I've truly noticed the difference." – Gwen M.
Giving the gift of Rejuvity isn't just good for those who receive it, it's good for your business too! The results of the Rejuvity system don't lie and before you know it, they'll be knocking on your door, looking for more!
Order your Rejuvity Essentials Pak today for $172
See more and/or order – Click Here!
 Or order – Click Here!
Or email me at sjslifep@mindspring.com for the best pricing.