IsaGenix products Ionix Supreme and e+ Energy Drink are both great products that both contain great Adaptogens.
We have a  video about these great IsaGenix products.
ISAGENIX ADAPTOGENS:
The Proven Formulas to Suit Your Lifestyle (Why Your Body Needs Them)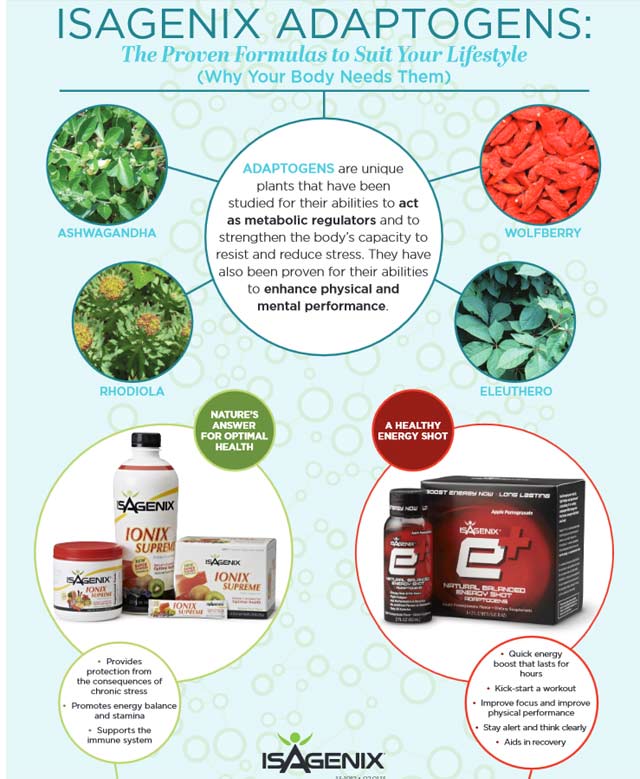 ADAPTOGENS are unique plants that have been studied for their abilities to act as metabolic regulators and to strengthen the body's capacity to resist and reduce stress. They have also been proven for their abilities to enhance physical and mental performance
e+ Energy Drink – A Healthy Energy Shot – Provides all the following:
Quick energy boost that lasts for hours
Kick-start a workout
Improve focus and improve physical performance
Stay alert and think clearly
Aids in recovery
Ionix Supreme – Nature's Answer for Optimal Health
Provides protection from the consequences of chronic stress
Promotes energy balance and stamina
Supports the immune system
e+ Energy Drink is a Healthy Energy Regulator: – Healthy energy shot containing naturally sourced caffeine and Adaptogens to boost natural, balanced energy and focus.
Ionix Supreme -Whole-Body Regulator: – Potent daily tonic which primes the body and curbs the consequences of chronic stress.
As a whole-body regulator, it establishes a foundation of homeostasis and promotes healthy aging.
What Are the Benefits?
e+ Energy Drink – e+ uniquely combines the extensive benefits of caffeine along with a novel blend of focus Adaptogens
clinically proven to improve mental and physical performance.
These "focus Adaptogens" are also potent antioxidants to protect cells from free radical damage.
Ionix Supreme -Ionix® Supreme contains a blend of stress Adaptogens specifically chosen for their benefits in modulating the consequences of chronic stress. It also contains antioxidants for combating free radicals to support healthy aging.
WHAT ARE THE IDEAL USE GUIDELINES?
e+ Energy Drink -
Can be used as an early morning boost
Enjoy for an afternoon pick-me-up
Perfect for a pre-workout boost
Ionix Supreme -
One or two servings per day, anytime.
Can be used morning, afternoon or evening or diluted and enjoyed throughout the day.
A perfect addition to your IsaLean Shake!
WHAT MAKES THIS PRODUCT UNIQUE?
e+ Energy Drink -
 Eleuthero  (Sometimes called Siberian Ginseng) – An adaptogenic plant that supports energy, physical performance and helps combat stress.
Rhodiola -  Increases energy, reduces fatigue and enhances cognitive function and physical performance.
Hawthorn Berry - enhances the ability to combat physiological and psychological stress.
Ionix Supreme -
Wolfberry -(Sometimes called goji berry) ­ Increases resistance against psychological stress and may contribute to mental clarity, normal working memory, and focus.
Schizandra – ­ An antioxidant that increases endurance and mental performance.
Ashwagandha -­ Found to decrease feelings of stress and reduce levels of the stress hormone, cortisol.
More Information on e+Energy Drink – Click Here!
More information on Ionix Supreme – Click Here!