IsaGenix has just released a couple of great new products. Dairy free plant based IsaLean protein shakes and bars.
Let's take a look at the new plant based dairy free IsaLean Shakes. A nutrient-packed, low-glycemic meal replacement that delivers quality dairy-free, plant-based protein, energy-fueling carbohydrates, good fats, and filling fiber you need to maintain good health.
You'll love each sip of our new Dairy Free Plant Based smooth IsaLean shake. This deliciously complete meal replacement contains 24 grams of the highest quality Dairy Free Plant Based protein.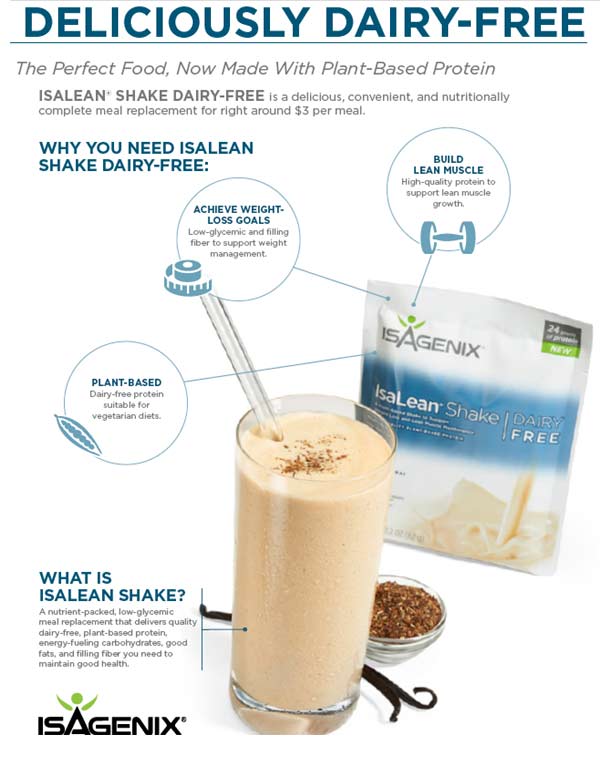 IsaLean Shakes are an important part of your Isagenix Cleansing and Fat Burning System and may help you slim down, while preserving and building lean muscle mass.*

Benefits:
May support your body in burning fat*
May support increased energy*
Highest quality of amino acids
Supports digestive health*
Zero trans fats
No artificial flavors
Gluten-FreeWheat-Free
HOW ISALEAN SHAKE WORKS:
IsaLean Shake Dairy-Free supports weight loss and lean muscle growth. At 250 calories, the high-protein, balanced nutritional profile keeps you feeling full longer without depriving your body of much needed nutrition. This is not just a shake; it's a total meal.
More information on IsaLean Dairy Free Protein Shake- Click Here!
IsaLean Dairy Free Protein Shake FAQ- Click Here!
Save
Save
Save