NATURE'S ANSWER TO STRESS:  ADAPTOGENS AND IONIX· SUPREME

THREE STAGES OF STRESS
Our bodies are designed to respond to stress in three stages:
1. FIGHT OR FLIGHT The body immediately transports large amounts of oxygen and glucose to the organs or tissues most important to the body's stress response – the brain, muscles and heart. This kind of stress is actually good for you because it can save your life.

2. RESISTANCE -This stage helps to fight the heart-pounding stress you still feel long after the fight -or-flight response has ceased. The
body makes available an immediate energy source of hormones,
like cortisol and adrenaline, to repair damaged cells and minimize inflammation. Usually, this stage gets us through many of life's stressful situations and allows the body to return to normal.
3. Exhaustion – At times, the resistance stage does not combat
the stressor and the body deteriorates into a state of exhaustion,
in our modern world, stress has become so prevalent, constant
and insidious that the exhaustion stage is where most people continually find themselves. Chronic stress can be much more harmful, especially in this stage. During exhaustion, the extended exposure to elevated levels of cortisol and other catabolic hormones builds to harmful effects on muscles, the immune system, the digestive systems, and overall metabolism.
According to the National Institute of Occupational Safety and
Health, stress-related ailments now contribute to 75% of doctor's
visits in North America. Signs of common stress include constantly
feeling overwhelmed, feeling fatigued, being overly emotional,
poor work performance, strained relationships, insomnia, headaches and backaches, and feeling as if little things can "set you off" frequently.
"Ionix" Supreme has changed my life. I have a better
memory, more energy, and sleep through the night.
My husband and I both have so much energy and we
exercise every day to help us use it up."
- Sandra B. Florida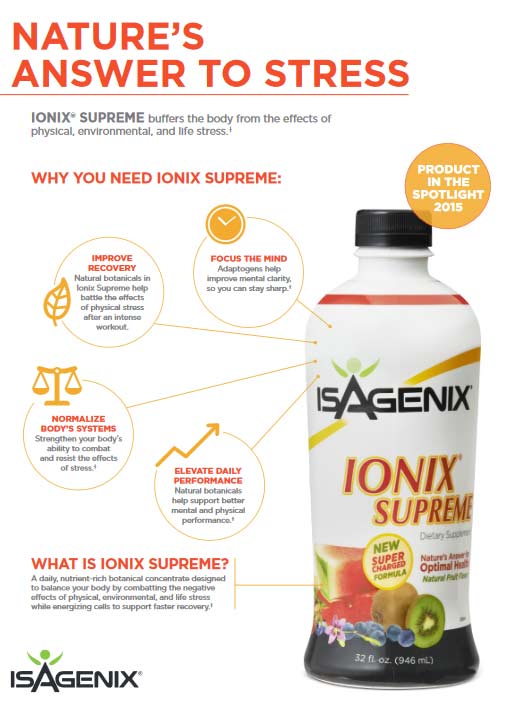 NATURE'S ANSWER TO STRESS: ADAPTOGENS AND IONIX· SUPREME
When coping with stress and temporary bouts of fatigue, most Americans reach for that extra cup of coffee or energy shot to get through the day. Others resort to alcohol, high-calorie snacks, cigarettes or TV and the couch for an escape. But these habits are counter-productive, they can bring on disrupted sleep, withdrawal symptoms or weight gain that eventually worsens mental and physical performance.
Mother Nature has something better. Used for centuries in traditional Eastern medicine and extensively studied by scientists in Russia and China, Adaptogens help the body enhance its resistance to stress without the side effects of stimulants. Unlike caffeine,  which works by tricking the brain to make it more alert, Adaptogens essentially mimic stress to set off an adaptive response in the nervous, cardiovascular, endocrine, immune and gastrointestinal systems. In essence, Adaptogens help the body do its job by helping it adapt to stress.


Research suggests that managing stress with adaptogenic herbs may result in enhanced mental and physical performance, improved health and possibly increased longevity. Adaptogens play a starring role in Ionix Supreme's superior nutritional profile, which also includes:
Antioxidants
Free radicals attack and damage healthy cells, tissues and vital organs. Antioxidants neutralize free radicals, protecting the body's cells and organs and preserve overall health.
Ionic Alfalfa
Ionic Alfalfa is a proprietary blend of alfalfa juice concentrate and plant-based minerals sourced from a deposit deep underneath the Earth. The blend is designed to restore food with the natural content of trace minerals it once had before the advent of industrialized agriculture.
"You have to buffer the system from stress and all the pollutants in the environment. I have my whole family and all my athletes on Ionix
Supreme-what a supreme product!"
– Michael Colgan. Ph.D.. C.C.N.
Best·selling author of Optimum Sports Nutrition." Your Competitive Edge
Why Ionix Supreme? Even if you can't change everything about your lifestyle, you can reduce the impact of stress, improve health, create vibrant energy and get more joy out of life!
Benefits
Reduces effects from stress.
Helps balance all body systems
Supports energy and physical performance.
Promotes faster recovery
Helps reduce fatigue
Increases vitality and mental focus
Support greater overall health and youthful aging
No artificial stimulants
Features
Comes in delicious liquid, or convenient, easy to use
powder- just add water.
New reformulated Ionix Supreme powder is super charged for greater potency and consistency.
Delicious, all-natural fruit flavor
How to Use
With the Herbal ingredients acting synergistically, drinking 1-2 servings of Ionix Supreme daily offers and advantageous way of obtaining the protection Adaptogens provide against stress. The drink can also help improve focus, attention and athletic performance.
Perfect as a cold drink or as a "tea" with warmed water.
Ionix Supreme Liquid – Click Here!
Ionix Supreme Powder – Click Here!
t+Chai Adaptogen Drink -Click Here!