Here is an excellent article on how free radicals – oxidative stress can impact and even shorten telomeres. This is not a good thing.
Can you imagine entering the doctor's office one day and obtaining a blood test that measures your biological age, as a better indicator of health than chronological age? That day could arrive soon with tests that measure the length of telomeres.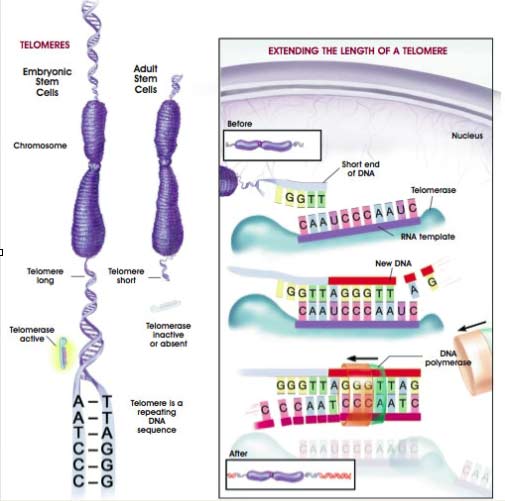 Embryonic and Adult Stem Cells, DNA, and Telomeres
Substantial evidence has led to findings that premature aging and its core cellular mechanisms are governed by the onset of telomere shortening (1-5). In this article, we hope to help increase understanding of the relationship between chronic oxidative stress and telomere instability.
The glutathione (GSH)-dependent antioxidant system is the cell's primary defense against oxidative stress, and plays a major role in detoxification and bolstering the body's immune system. Emerging data are helping to explain the role of the GSH-redox cycle for preserving telomeres.
Structurally, telomeres are formed by non-coding DNA sequences along with specialized proteins that act as protective caps at the physical ends of chromosomes. Human telomeric DNA consists of repeated sequences of TTAGG and extends over several thousand base pairs. Because guanine-rich sequences are more sensitive and less capable of DNA repair, telomeres are more vulnerable to oxidation.
Telomeres fold back onto themselves in a loop to provide functional stability. The telomeric DNA is synthesized by the enzyme telomerase, the absence of which results in a progressive erosion. Evidence indicates that chronic oxidative stress not only causes progressive damage to cellular membranes, proteins, and molecules, but also induces the slowing down of existing telomerase activity and accelerates telomere shortening (1&2).
Chronic oxidative stress develops into a state of progressive telomere shortening induced by elevated homocysteine levels, and reduced glutathione, or an otherwise compromised GSH-redox cycle.
Lower amounts of reduced glutathione, and diminished activity of the enzymes GSH peroxidase and catalase, cause a failure to protect cell components from damaging peroxides (1-3). The mitochondria become dysfunctional, producing increasing amounts of free radicals and less ATP energy (1-3). Together, these effects lead the cell to cease division or appropriate function, known as replicative senescence.
Guarding the GSH-antioxidant System
Because the GSH-antioxidant system is the predominant guardian against oxidative stress, it is proposed that maintaining its integrity can support against telomere erosion and "stress-induced" premature onset of accelerated aging.
Scientific research suggests that a variety of consistent behaviors in humans in-vivo are available to alter the amount of oxidative stress placed on cells of the body.
Among factors thought to adversely affect telomeres are smoking, drinking heavily, obesity, and chronic psychological stress (1-3). On the other hand, meditation, socialization, and regular exercise are associated with longer telomeres (1-3).
In addition, studies suggest diet and supplementation habits can be help preserve telomere integrity. Some choices linked with longer telomeres are:
Whey to Glutathione
Another method to gain optimal  protection against oxidative stress and telomere attrition is by using methods to naturally increase the levels of glutathione in the body by way of regular ingestion of whey protein, according to recent studies (5-7).
"Bioactive whey protein," as one study calls it, provides a high concentration of the amino acids cysteine, glutamate, and glycine. These amino acid precursors are used in the synthesis of glutathione by the enzyme GSH-synthase. Several studies have shown that bioactive whey protein can dramatically raise the levels of glutathione in the cells of the body without side effects (5 & 6). Increases in levels of circulating glutathione from whey are associated with a stronger immune system and greater capacity of detoxification.
Whey also offers other anti-aging benefits such as protection against sarcopenia (the loss of muscle and strength with age) and by supporting weight management through increases of thermogenesis and satiety.
Supplementing to Optimize Telomere Protection
Supplementing with antioxidant vitamins and minerals supports activity of antioxidant enzymes that can assist in protecting cells and their components, including telomeres, against oxidative stress.
GSH peroxidase plays a major role using GSH as its reducing agent in detoxification of peroxides (types of reactive oxygen species, such as hydrogen peroxide), which can inflict harm to cell membranes, proteins, and telomeric DNA.
The oxidized GSH is then recycled by another enzyme, GSH reductase, which uses nicotinamide adenine dinucleotide phosphate (NADPH) as its coenzyme and reducing agent. Catalase is also an enzyme that acts as an efficient detoxifier of hydrogen peroxide, while superoxide dismutases (SOD) are a class of enzymes that act to quench superoxide, a highly reactive form of oxygen, and convert it to hydrogen peroxide or stabilized oxygen.
It's notable that selenium, niacin, zinc, and copper are important dietary factors because these enzymes rely on them to function.
Interestingly, data are emerging that particular dietary factors and supplements could act to promote antioxidant enzyme activity further and thereby further support telomere integrity. These supplements will be subject of future blog posts.
Isagenix IsaGenesis Product – Click Here!
More Information Product B including Ordering – Click Here!