Do you ever feel sluggish late in the afternoon around 2 or 3 p.m.? Wishing you could rekindle that child-like energy that makes everyday life seem easier?


Well, you could be missing the four essential nutrients to unlock your vibrant energy.
Many times, that tired feeling we get as we trudge through the day is our body's way of saying "I need more nourishment!" Even though you may be fitting in all of your calories, that doesn't mean your body is getting the essential nutrients it needs to function at its utmost.
Here are four essential vitamins you need every day to kick that sluggish feeling to the curb:
1. Long-chain omega-3 fatty acids. According to a recent study by the British Journal of Nutrition, you should be consuming at least 250 mg of long-chain omega-3 fatty acids, EPA and DHA daily to protect your heart and keep it functioning optimally. To get 250 mg of long-chain omega-3 fatty acids every day, you'd have to eat a serving of tuna or cod that's the size of a deck of cards!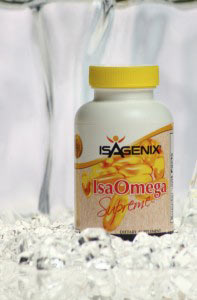 Or instead you could easily and conveniently get your intake with IsaGenix IsaOmega Supreme®. You'll be flooding your body with 2,000 mg of healthy fish oil daily (1,200 mg long-chain, 600 mg EPA and 480 mg DHA), a great way to boost your heart health. Another plus? Did you know that fish oil can help you lose weight and might even help you keep it off?
2. Vitamin D. Our bodies create Vitamin D thanks to the sun, but most of us neglect getting enough of the "sunshine vitamin" because we're stuck indoors too much, are carrying extra weight or simply live in a place where certain times of the year yield less of the direct rays than in others. To solve the issue, adding a daily supplement with at least 2,000 IU of Vitamin D. By taking your daily dose of Vitamin D, you'll be helping to protect your body from the effects of aging and helping to ward off brittle, weak bones, too.
IsaGenix Rejuvity Ageless Actives™ offers 1,000 IU of Vitamin D along with a synergistic blend of other nutrients such as CoQ10 and Resveratrol to support heart health as well. Essentials for Women™ and Essentials for Men™ multivitamins offer another 1,000 IU of Vitamin D. Together, they provide the daily dose of 2,000 IU for your body. Here's a little more about why you need Vitamin D.


3. Vitamin C. We all know that the key to a healthy immune system is plenty of Vitamin C, but how often do you grab that orange and how much do you really need? Researchers stated in a study published in the American Journal of Clinical Nutrition that people need to maintain an ongoing and constant vitamin C intake to sustain tissue concentration. That means your Vitamin C intake goes even beyond keeping the sniffles at bay!
Thanks to IsaGenix C-Lyte®, you get 520 mg of Vitamin C, the equivalent of drinking more than five cups of orange juice! With three different types of Vitamin C included such as mineral ascorbates (to buffer acidity), your stomach will thank you for providing such a gentle formula.
4. Calcium. A study published in the Journal of American Dietetic Association reported that U.S. adults aren't getting the adequate amount of calcium needed to maintain strong bone health. Whether we're trying to cut down on our fat intake, we're lactose intolerant, or we just aren't big milk drinkers, most of us aren't getting the amount of calcium we need on a daily basis to keep our bones strong. To make sure you're getting what you need (1,000 to 1,300 mg daily), supplementation is necessary.
The Essentials for Women multivitamin offers 900 mg daily while the Essentials for Men multivitamin provides 800 mg daily, a great supplement to your regular IsaGenix IsaLean® Shake, leafy greens, fortified cereal and low-fat milk.
Wondering how you can fit in all of these supplements AND save money? We have a simple solution that will save you nearly $30 off wholesale pricing of each individual supplement while also providing a convenient way to take them!


The Isagenix Ageless Essentials™ Daily Pack for Men and Ageless Essentials Daily Pack for Women features two small daily packets that contain just the right amount of these vitamins and minerals along with blends of antioxidants, botanicals and other key nutrients. The best part? Isagenix Master Formulator and Founder John Anderson says pairing this dynamic vitamin pack with the IsaGenix 30-Day Cleansing and Fat Burning System and all of the other products actually improves the nutritional benefits and is "essential" to your Nutritional Cleansing and Replenishing lifestyle!
Select "Rejuvity" to order your Ageless Essentials Daily Pack today, or try the 30-Day Cleansing and Fat Burning System with Ageless Essentials Daily Pack!
Also be sure to check out Product B Antioxidants Plus Telomere Support.